Why Choose DTNE?
Our Mission
Our mission at Dance Theater of New England is to provide sound technical training for the recreational or pre-professional dancer in a warm and friendly environment. Every child deserves and receives our attention and technical expertise.
At Dance Theater of New England, our approach to dance makes us different. Simply put, we educate the whole child. DTNE's classes not only meet the Massachusetts state standards for dance education, but national standards as well! Each level of study is planned with the development needs of each age group in view. Every concept and movement is carefully explained and correctly demonstrated by our qualified staff, so that your child will understand the historical relevance of what he/she is doing and how to do it.
A Dance Theater of New England education will serve your dancer well, wherever he/she may find him or herself. Your child will never feel out of place or be out of step! In this world of change, they will learn to love an art form that spans cultural boundaries and has endured the test of time.
Dance training at Dance Theater of New England will educate your child for a lifetime. Recent studies show conclusively that a dance education will expand the cognitive growth and development of young learners. In older children and teens, it builds self-esteem, body awareness and crucial problem solving skills.
A dance education, in particular, also augments the ability to grasp complex and abstract concepts. It builds self-discipline, confidence, and poise. While in class, children learn to work together in the spirit of good sportsmanship. A performing arts education also builds an educated consumer while opening a world of wonder, where anything is possible.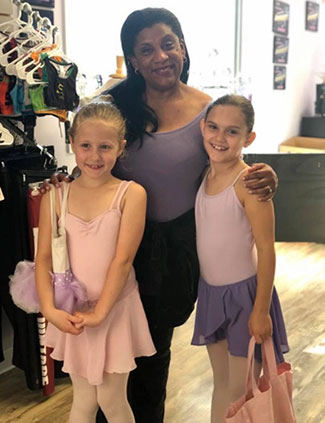 Testimonials
See What our Dance Families Think About the DTNE difference!



Why do families travel from Bridgewater, Freetown, Dighton, Attleboro, Sharon, Easton, Brockton, East Bridgewater, West Bridgewater, Whitman, Halifax, Taunton, Middleboro and Lakeville weekly just for dance lessons at Dance Theater of New England? It's because DTNE has been committed to the education and artistic growth of its students!
Miss Deb,
Thank you very much for taking the time and meeting with Carlee and I. We are very fortunate to have found your dance studio and I am proud to be part of the Dance Theater of New England Family.

Love, Kim Byrne

Hear what Jenny and Emilia have to say!

Rhylee and her buddies explain in their own words why they like to dance at Dance Theater of New England in this super fun video!
Dear Deborah,
I am writing this with heartfelt truth and sincerity. You have no idea how much of an impression you have made upon Kendall. She spent three wonderful weeks at summer camp with you. She absolutely adores you. I am so happy for you! Dance Theater of New England will continue to grow and prosper. All my very best to you always.

Fondly,
Ann Trautman
Dear Deborah,
Thank you to you, the dancers and Derrick for joining us at the relay. Your dance groups were a delight. They added a nice touch to the entertainment. See you next year!

Anne Fagan
Bridgewater Relay for Life
Why Us?
Five Things Every Parent Should Know Before Choosing a Dance School

If most dance studios seem to have qualified, friendly teachers, experienced in teaching children, and a recital at the end of the year, aren't they all pretty much the same? Does it really matter where you decide to enroll your child? Yes, it does.
Here are 5 things that can have a large impact on the quality of instruction your child receives, the amount of inconvenience you as a parent must deal with, and the overall enjoyment and satisfaction of being involved with a dance program:
1. What type of dance floor is used?
Dance is a very physical activity that requires jumping and rebounding. This type of movement, although healthful, can unwittingly put stress on a dancer's joints and lower back. Since most dance footwear does not provide enough cushioning or support to absorb the shock of impact, the best way to prevent against potential injury is by choosing a studio with a professional "floating" dance floor. A floating dance floor is a floor that rests on a system of high-density foam supports. This type of surface is superior as it gives with the dancers every move. A high-density foam base is superior to a "sprung" floor, which usually consists of a wood structure built on a sub-floor.

The top layer of the dance floor is also an important factor. A vinyl composite "marley" floor is accepted worldwide as the best surface layer for recreational and professional dance. World renowned dance institutions such as The Boston Ballet; The Royal Academy of Dance in London, England; and the Riverdance Touring Show, all use marley floors.

A marley floor allows dancer to slide with a degree of "controlled" slip, thus reducing the risk of spills and falls. Because of their expense, very few dance studios use professional marley floors, and opt for a regular floor tile for a dance surface.

For the safety and comfort of our students and staff, we at Dance Theater of New England have chosen to install a floating floor and a marley surface. Our special floor helps reduce the risk of injury and allows students to dance longer without fatigue.

2. What is the size of the class?
Recent studies show that children learn better in classes with fewer students. A smaller class size means that each child will receive more personalized attention, learn more and have more fun! With younger students, intimate class settings are highly effective as it is easier for the Instructor to assist each child and provide answers to important questions.

Our smaller class sizes ensure that no fundamental concepts are being missed so that bad training habits and improper technique will not develop. Our studio limits all of our class sizes (ages 7 and up), to a maximum of 12 to 15 students per class. Our Young Dancers program and Primary Dance program (ages 3-6) are taught by a lead teacher and an intern. This gives every class an approximate 1:6 teacher to student ratio. DTNE's classes are never led by students or interns.

3. Why don't you offer combination classes for students 7 years of age and older? Isn't that a better deal?
At face value combination classes seem to make sense. For younger dancers (ages 3 to 6), they offer an opportunity to sample different dance styles and still master gross and fine motor skills. But parents should be aware that combination classes are absolutely inappropriate for legitimate dance training after kindergarten. Most combination classes are 1 hour to 1½ hours long and offer two to three subjects. This means that once your dancer finally gets dancing, it is time to change shoes. There has not been adequate time to warm-up properly, let alone learn anything more than a dance for a recital. Add to this fact that you have to buy a costume for each dance learned, and your tuition money and fees have gone into one recital experience rather than learning how to dance.

In her column Advice for Dancers, featured in Dance Magazine, Linda Hamilton, Ph.D., a former New York City Ballet dancer, quotes a leading University of South Florida ballet history professor, Carol Lee.

"Every ballet class should have a specific structure that moves from the barre to center exercises, followed by steps in combinations. Anyone who throws in jazz or tap isn't playing by those rules. Likewise, teachers who don't use the French vocabulary and refer to plies as 'squats' probably lack adequate training."

At Dance Theater of New England we pride ourselves in our mature experienced Faculty and our safe and technically sound classes. Our internationally recognized preschool program (Creative Movement) is one hour long. It is fun and inspires children to explore movement and prepares them for training in our graded syllabus. Classes for grades 1 and up are single subject and are 1 hour to 1½ long depending on age and experience. All dance styles follow accepted training standards and feature a warm-up (barre for ballet), stretch, center combinations and across the floor work. Our entire faculty has had exceptional professional training at dance company schools. Most have either performed professionally, attended colleges with outstanding dance programs, been apprentices in nationally recognized dance companies, or have been scholarship students at said companies. You can be sure that your dancer will always be correctly taught with national and international dance standards in view.

4. Can I get immediate assistance and student services?
In many studios the teacher or the studio owner conducts the classes and does the administration. By trying to do two jobs at once, students may suffer as the teacher has to use class time for student service issues. Some studios may have no student services available at all if the teacher is in class. To have a good experience, it is important to choose a studio that can assist you with details like costumes or schedules even if the teacher is occupied in a class. Our studio has office staff on hand during regular class times so you can receive timely assistance at your convenience.

5. What are the extras and hidden costs connected with dance training?
Many studios have a two-tiered pricing menu that is confusing to read and understand. We have a no nonsense pricing policy with no confusing jargon. The more you dance the more you save. All of our costumes come fully-assembled and require little to no alterations. To ensure a comfortable and stress-free day, all of our recitals are run in a timely and professional manner. Our recital venue is air conditioned and there are plenty of seats for everyone.