Class Offerings
At Dance Theater of New England, we are committed to the educational and creative needs of your child. Beginner through advanced, recreational or pre-professional, our dance program offers a comprehensive course of study that will give your dancer the opportunity for personal and artistic development.
Nobody does tiny tots like Dance Theater of New England! Our comprehensive Early Childhood and Pre-School dance programs are designed to educate, amuse, and encourage cognitive and creative skills in young children.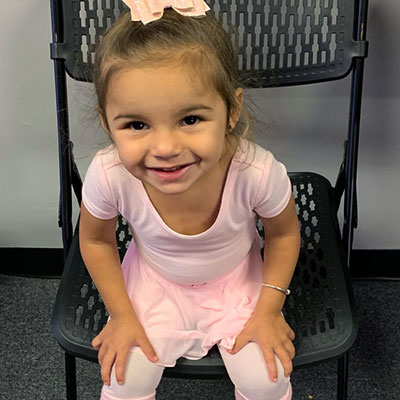 DTNE currently offers the following classes:
DTNE Dance Babies
AGES 12 MONTHS – 2 YEARS
The original, 12 years of service to area families and their youngsters!
In Africa, there's an old saying "It takes a village to raise a child". We at Dance Theater of New England know that you want the best for your little one, and a great education is a good start in the right direction. Especially if it includes dance! So with this in mind we offer this free class as a community service. This is a gift from Dance Theater to you and your child. Thank you for enrolling and letting us give back to the village we dearly love. Tuition is free and dads are always welcome to join in!
Class Length: 30 minutes
Tuition: FREE! Dress Code

Terrific Twos
AGES 2 - 3
It is fabulous to be 2 years old! Two-year-olds are full of enthusiasm, exploration- and a growing independence. At this age, they learn to play with other children and will build with blocks. Our dance class will embrace your child's need for independence while making the best of their developmental benchmarks, with dances that hop, jump, run, and show emotion. Dancers will learn to use ribbons, scarves and balls to create dances together and on their own. Basic ballet terminology will be introduced as dancers embark on a special dance adventure weekly.
Class Length: 30 minutes Dress Code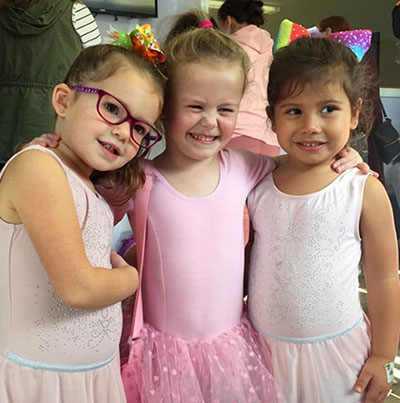 Creative Movement
AGES 3 - 4
Our program for young children is designed to introduce basic classroom concepts in a fun and warm way. To achieve this end, we use Royal Academy of Dancing (RAD) Preschool Curriculum when instructing young dancers. While in class, students use music, manipulatives, props, and simple movement activities to develop gross motor skills, musical awareness, as well as social and listening skills.
Class Length: 60 minutes Dress Code

Pre-Primary Dance
AGES 4 - 5
In this program, the class becomes more structured while maintaining a warm, open atmosphere. Gross motor skills continue to be taught, and fine motor skills are introduced. Locomotor and non-locomotor movement is explored through RAD syllabus and tap dance skills. Students begin to learn such important concepts as placement and sequencing through ethnic and folk dance models. There is plenty of opportunity for self-expression. This course is offered as a combination tap class.
Class Length: 60 minutes Dress Code

Primary Dance
AGES 5 - 6
This is a foundation course in dance education. We begin to prepare young students for the physical requirements of the trained dancer. Gross and fine motor skills continue to be introduced and combined. Placement, locomotor and non-locomotor skills are re-enforced through a classical dance model superimposed on various dance styles such as ballet, folk and theater dance. This course is offered as a single subject or as a combined class with tap.
Class Length: 60 minutes Dress Code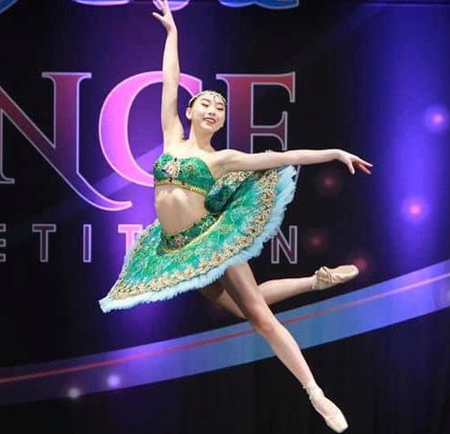 Ballet
Dancers begin to learn the elegant style and time honored tradition of the dance of the noble courtiers of King Louis XIV. Through barre, centre and across the floor exercises, children learn the basics of the placement of the body, legs, arms, and head. In class, jumping, turning, and traveling steps are taught and later combined into increasingly complex combinations. As strength, flexibility and technique develop, stability and competence are realized. In upper levels, mastery of style and variations become the focus. Dress Code

Pointe
AGES 12+
It should be emphasized that Pointe work is a result of serious systematic training. Only Level 5 students who are age 12 or older will be considered for Pointe work. Applicants will be evaluated and placed at the discretion of the instructor.
Because of the nature of pointe work and its demands, all Pointe students are expected to study Ballet for a minimum of 3 hours a week. This is a world standard and insures the safety of each dancer.

Jazz
With its technical base in classical ballet, this exciting expressive dance form has its roots in many cultures. While many of its movements have come from ragtime, vaudeville and other popular dances, jazz draws deeply from the African-American culture. Jazz dance has become international in its growth and appeal, but its true nature is typically American. At each level, body awareness through proper alignment and conditioning is stressed. Dress Code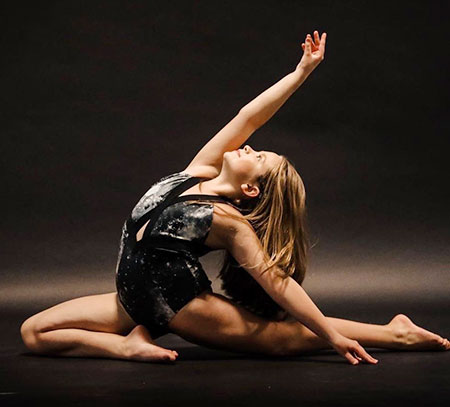 Tap
Tap is an exciting performance art and an excellent addition to any basic dance education experience. In addition to learning the dance steps basic to tap instruction, we encourage a full body approach which encompasses all forms of dance as a means of enhancing overall technique.
Modern
Modern dance focuses on strengthening a student's understanding of universal movement principles, including a key emphasis placed on center of gravity, correct alignment, range of motion, spatial precision and self expression. Common modern terms such as contract, release, suspend, rebound and recovery will also be explored. Major modern dance techniques will be introduced including Hawkins, Horton, Graham, Limon and Taylor among others. Dress Code
Hip Hop
Hip Hop as defined by a popular online encyclopedia refers to social or choreographed dance styles primarily danced to Hip Hop music or that have evolved as part of Hip Hop culture. This popular dance form includes a wide range of styles notably breaking, locking, and popping which were developed in the 1970s by Black and Latino Americans. What separates Hip Hop dance from other forms of dance is that it is often freestyle (improvisational) in nature. Dance Theater of New England instructors keep Hip Hop fresh and new by employing unexpected music and family friendly themes. Dress Code
Acrobatics
Acrobatics is the performance of extraordinary feats of balance, agility and motor coordination. It can be found in many of the performing arts, and can be seen in ballets and famous shows like Cirque du Soleil. It is most commonly known as the floor portion of a gymnastics program. As students' master dance and tumbling skills, strength and confidence takes root. As the tricks and skills become more difficult the dancer comes to realize that anything is possible in and outside the studio. At Dance Theater of New England, students are encouraged to progress at their own pace. Acrobatic classes include a warm-up, strength training, across the floor tumbling, one-on-one individual skill building as well as dance training. Dress Code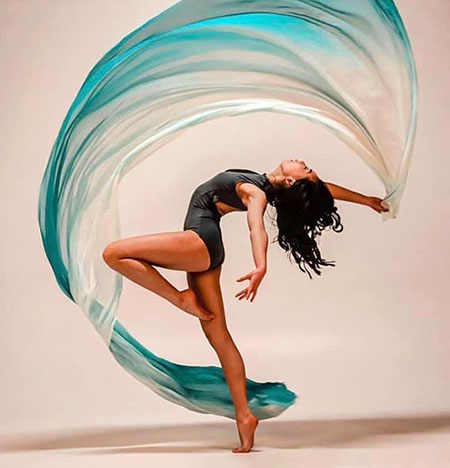 Young Artists' Program
GRADES 7 AND UP
The Young Artists' Program is an advanced intensive program for the serious dancer who is interested in pursuing a career in dance or the field of dance education. Students who are in 7th grade are eligible. Younger students will be considered on an individual basis.
In this intensive program, students are required to take 4 or more ballet classes per week, plus technique-only classes in Modern, Jazz, Contemporary, and Improv/Choreograpgy. Students who are interested in musical theater are strongly encouraged to take tap.
Young Artist's participants will also choreograph and produce their own show. The proceeds for this show will benefit a charity of their choice. This is an invitation/audition only program. If you would like to be considered, please contact Dance Theater of New England at (508) 697-5255.