Summer Programs
Dance Theater of New England offers a variety of fantastic summer dance intensives so you can stay sharp and be on "pointe." You will be so happy with the results!
Summer Dance for Little People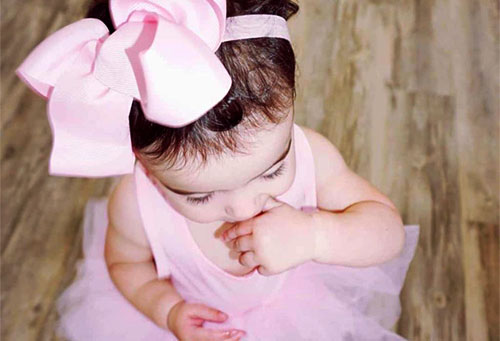 Terrific Two's Days
AGES 21 MOS - 2 YEARS
Smile with delight as you whirl around the dance floor with your little one. Be your child's first dance friend and connect in a way you've always dreamed.
Mini Session 1 - July
Tuesdays - 7/5, 7/19, 7/26 (9:30 am - 10 am)
Register Now $25
Mini Session 2 - August
Tuesdays - 8/9, 8/16, 8/23 (9:30 am - 10 am)
Register Now $25
Summer Dance Experiences for Younger Children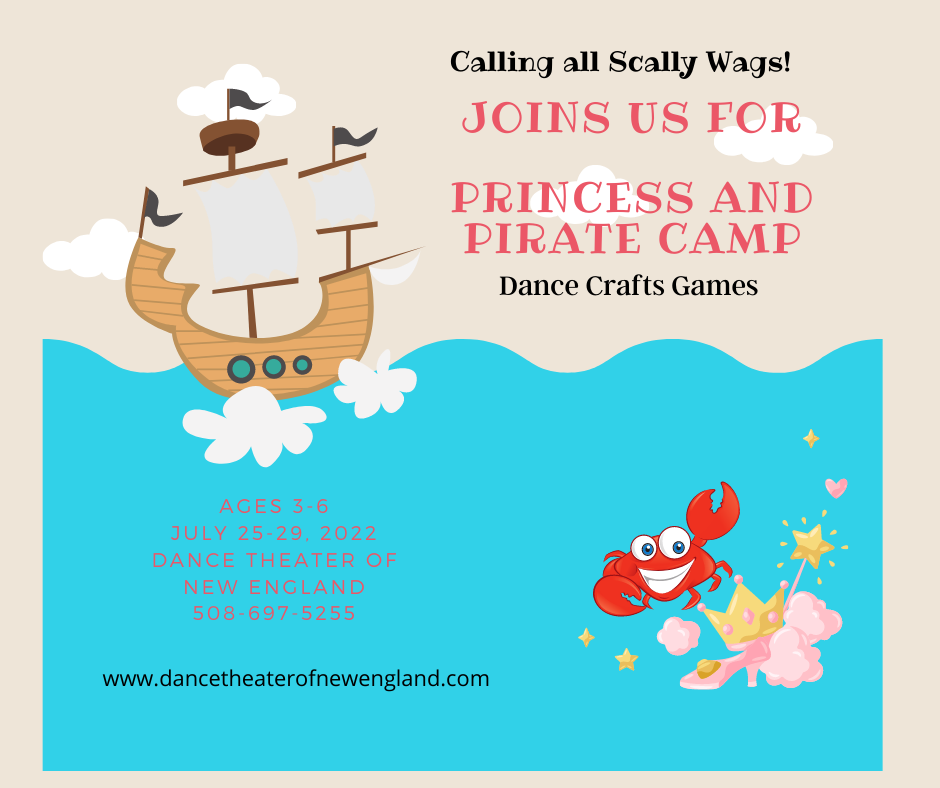 Princess & Pirate Camp
July 25 - 29, 2022 (9:30 am - 12 pm) Tuition: $125 Ages 3-6
Calling all Princesses and Pirates! Join us for a week of Royal Romps and Hijinks on the High Seas! Boys and Girls will be treated to dance, stories, and arts and crafts. Each day will feature a new theme! You won't want to miss the fun! Crafts and snacks provided.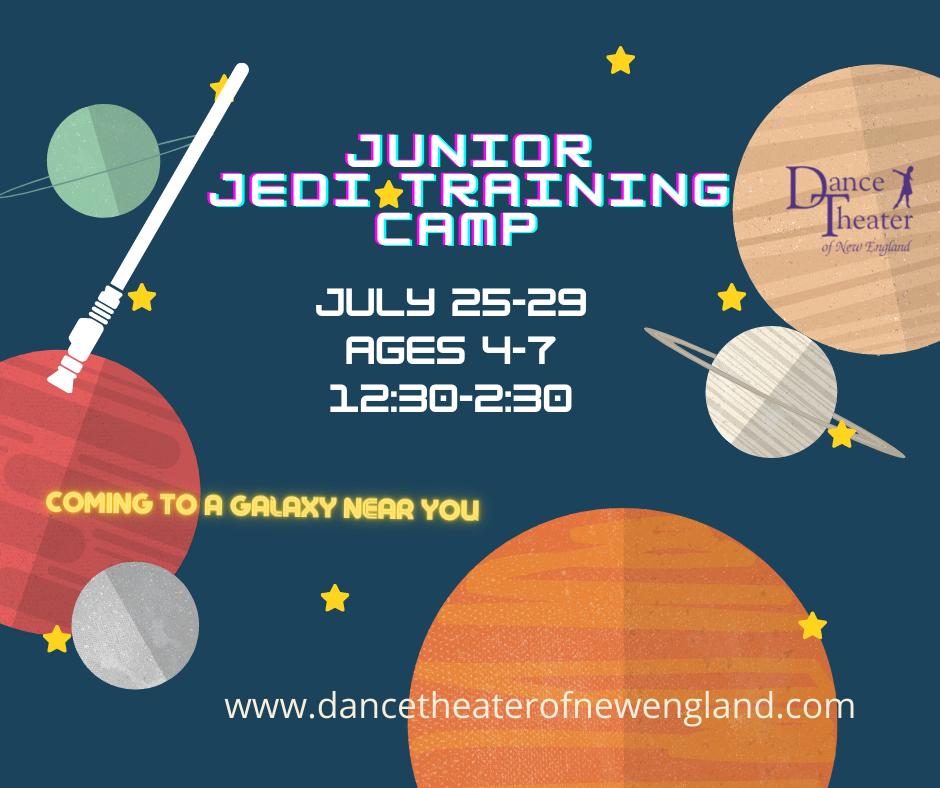 Junior Jedi Training Camp
July 25 - 29, 2022 (1:00-2:30) Tuition: $125 Ages 4-9
Master some Jedi moves, have a blast with our obstacle course and make your own lightsaber. The Force will be with you after this fun week of mastering your inner Jedi! Lightsaber and crafts included.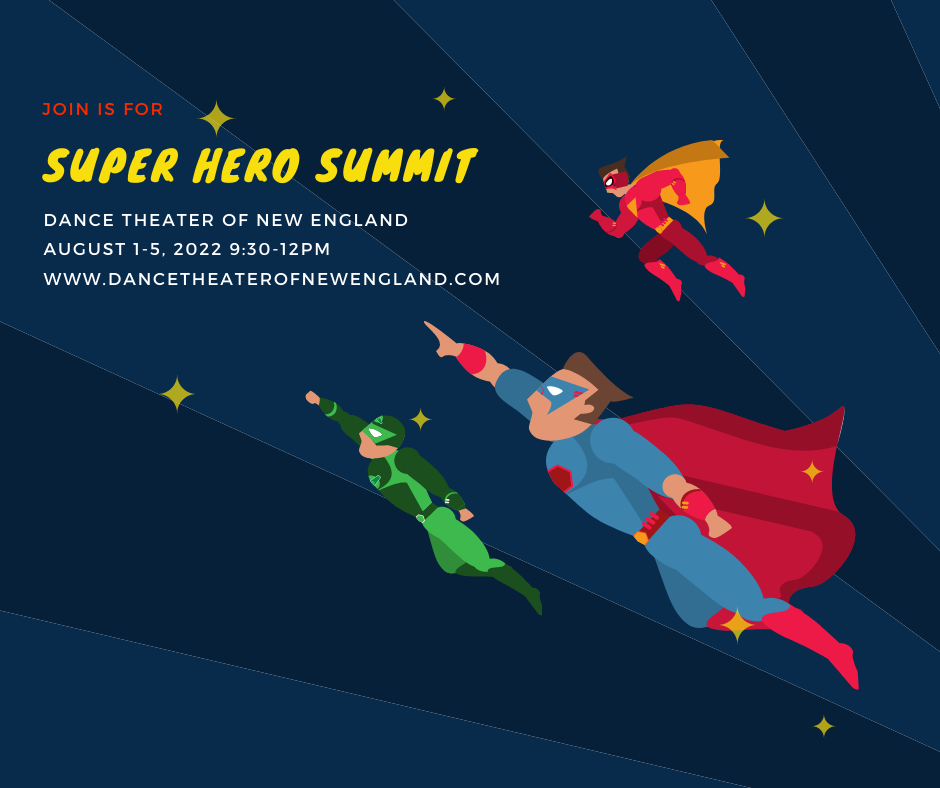 Super Hero Summit
August 1 - 5, 2022 (9:30-12:00) Tuition: $125 Ages 4-9
Boys and Girls, confer with your fellow Super Heroes in this week-long class. "Avengers" will "Marvel" when they participate in super cool hip hop and break-dancing classes. Learn to fly through our obstacle course and craft time while making new friends. Cape, Crafts and Snack included.
Day Dance Camps for ages 6-11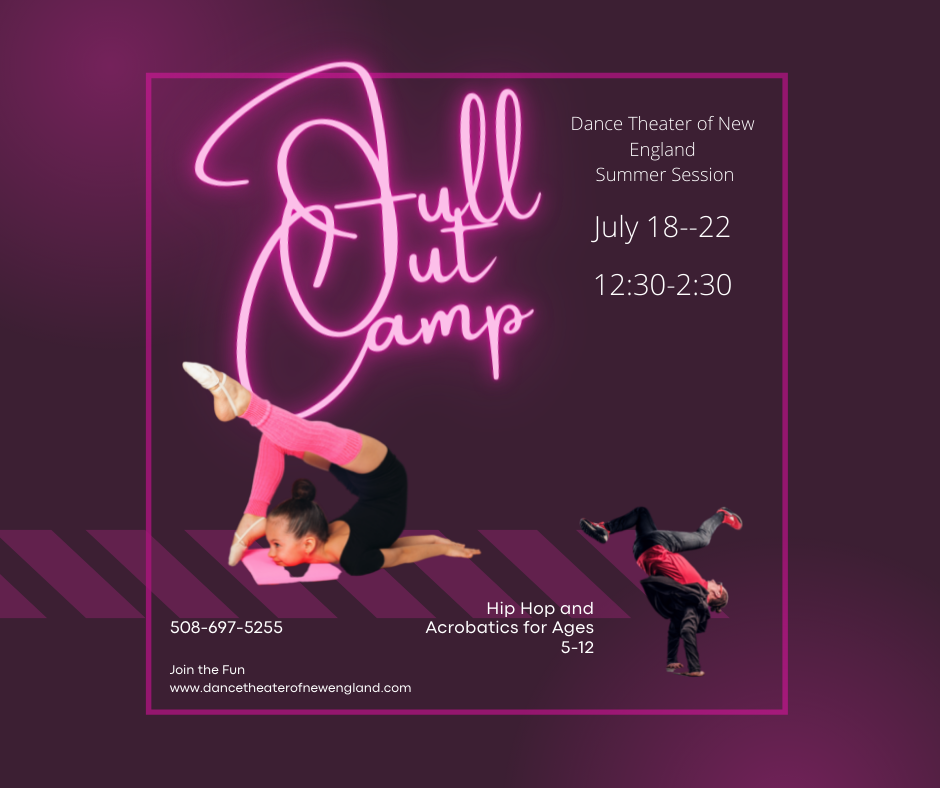 Full Out Camp
July 18-22, 2022 (12:30pm-3:00) Tuition: $125
If you like Hip Hop and gymnastics, then this Full Out movie inspired camp is for you! Join us for the week and learn the newest hip hop moves while working on your acrobatics and tumbling skills. Crafts and snacks included!
- Sold Out!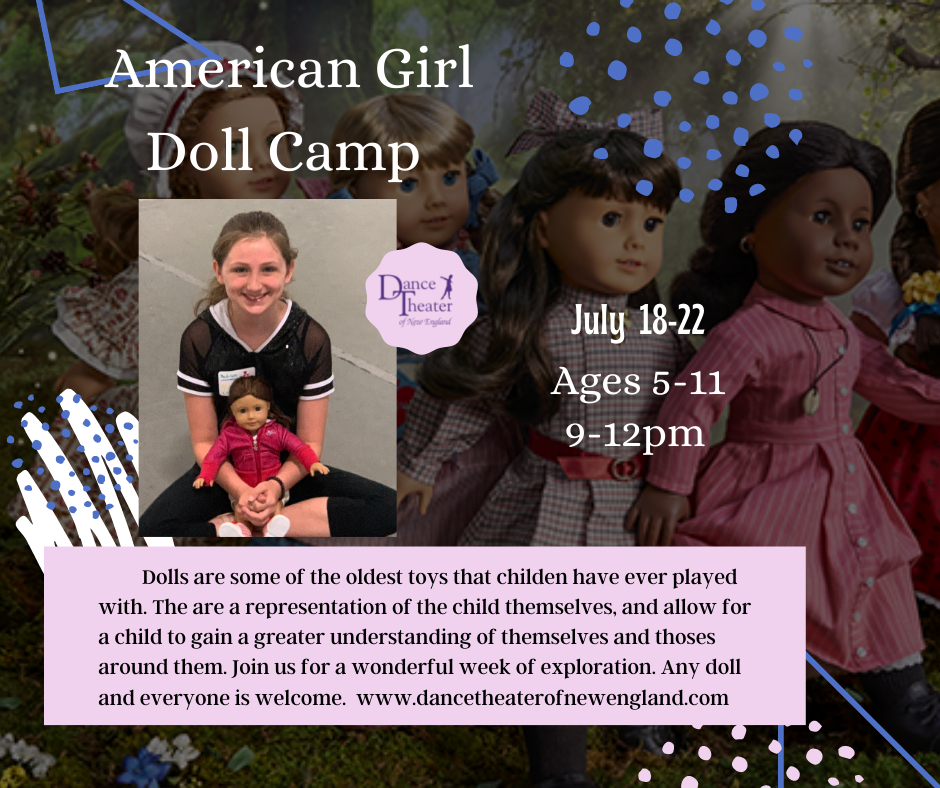 American Girl Doll Camp
July 18-22, 2022 (9:00-12:00) Tuition: $125
Dolls are some of the oldest toys that childen have ever played with. The are a representation of the child themselves, and allow for a child to gain a greater understanding of themselves and thoses around them. Join us for a wonderful week of exploration. Any doll and everyone is welcome.
Register Now Only 3 spots left!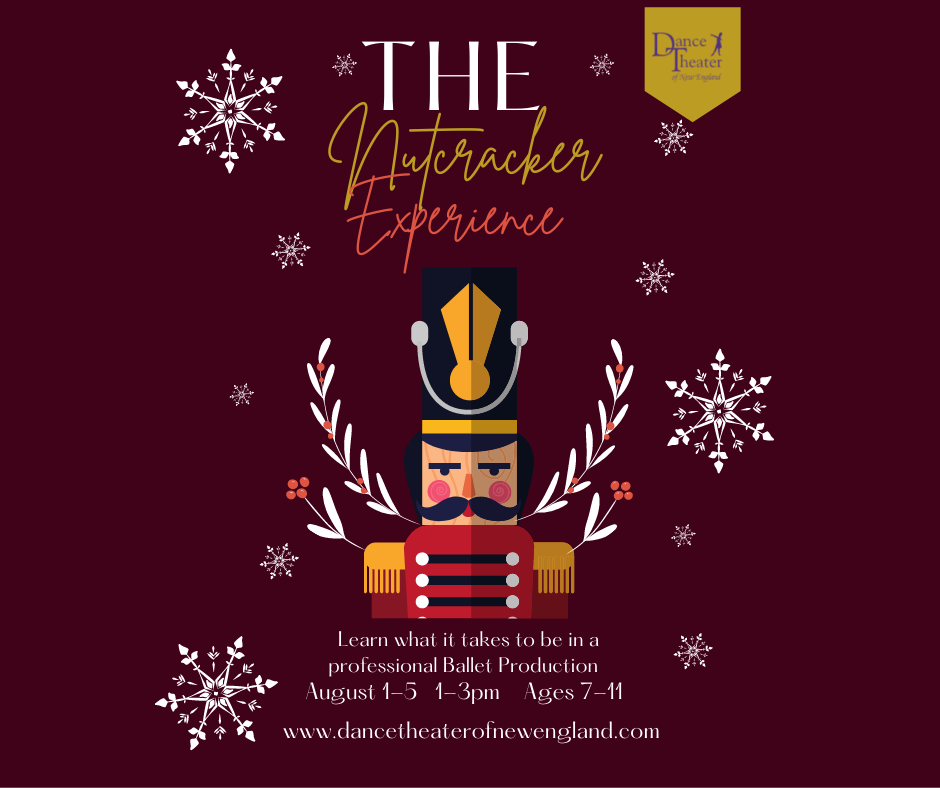 The Nutcracker Experience
August 1-5, 2022 (1:00-3:00) Tuition: $125
Find out what it takes to be a real dancer in the Nutcracker. During this week-long experience students will take a ballet class and learn dances from the ballet The Nutcracker. Crafts and snack are included. Boys and Girls are welcome.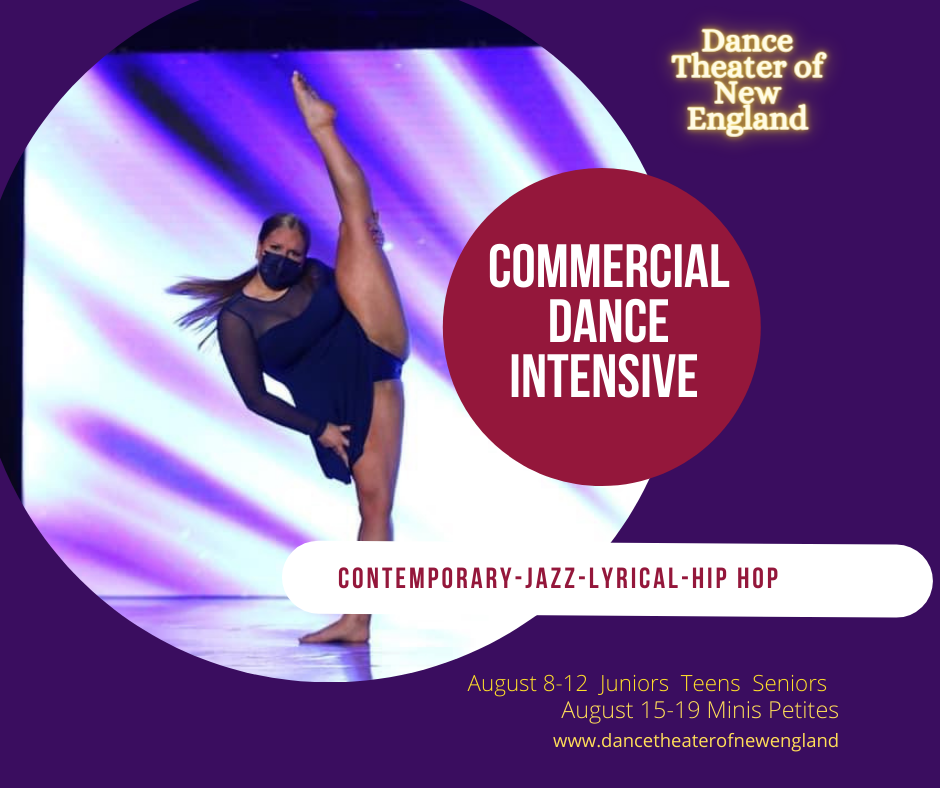 Commercial Dance Intensive
AGES 7 - 18 $375
See yourself grow as you explore the beauty of dance. Teachers include our amazing DTNE Faculty, along with special guest artists. 9am-3pm
Tuition: $375
August 15 - 19, 2022

9am-12:30pm
Mini/Petite» Register Here
ages 5-10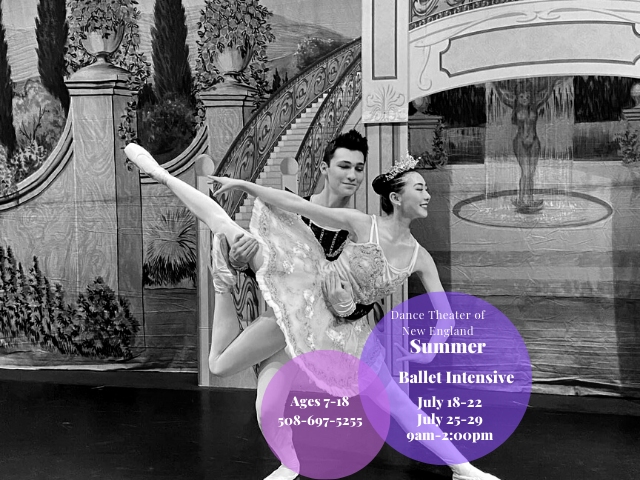 Summer Ballet Intensive
Session One: July18-22 9-2pm
Session Two: July 25-29 9-2pm
The Ballet Intensive is for Dancers ages 8-18. Dancers will be divided up according to age/ability. All dancers will have ballet technique class every day and pointe class or pre-pointe exercises where appropriate. Modern (either Horton or Graham), Flamenco, Character, Contemporary, Men's Class and PBT. Dancers will also study variations as well. We dance from 9am-2:00pm. We hope you join us for this wonderful "all things ballet"
Tuition: One Session: $350 Two Sessions: $565